| | | |
| --- | --- | --- |
| Health | Safety | Environment |
We are committed to providing a safe and healthy work environment for all those involved in and directly impacted by our operations, including employees, contractors, the environment, clients, visitors, and the public.

We are dedicated to ensuring that every stage of our work's primary focus is "what is safe, what is right."

We believe we will achieve excellence by upholding our commitments, staying true to our beliefs, attaining our goals, fulfilling our shared responsibilities, and being relentless in our efforts to learn and continuously improve.
The Western Dispatch HSE Management System sets forth the principles by which we conduct our operations regarding Health, Safety, and the Environment. WD management communicates our HSE philosophy, priorities, objectives, and requirements, to all employees, contractors, and third parties associated with our business. Our HSE standards are implemented in all our operations and comprehensively assessed to assure compliance.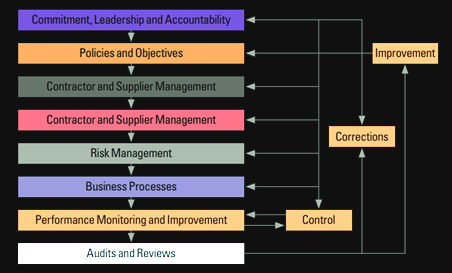 Health 
At Western Dispatch, we understand that true well-being encompasses much more than just physical health. That's why we take a holistic approach to wellness, recognizing the interconnectedness of social, psychological, financial, and physical well-being. We are committed to fostering a workplace where we prioritize the care and support of our team members, creating a safe and positive environment where everyone can thrive.
At Western Dispatch, People are the heart of our business. Whether they're our employees, customers, contractors, involved in our supply chain, or in the communities where we live and work. Here is how we succeed.
-We invest in people, We attract, motivate, and retain a highly competent workforce and this is a key to our success.
-Promote equity and inclusion.
-Building a truly diverse workforce.
-Safeguarding mental health and well-being.
-Maintain a Code of Conduct, this is a core principle on how we are expected to uphold ourselves, not only in the workplace but in our communities as well outside of work.
 -A series of SOP's, values, and principals that encourage our workforce to take care of themselves physically and mentally.
Covid-19 Policy & Responsibility
During this COVID-19 pandemic, it is the responsibility of us all to carefully and continually consider how we can reduce the risk of transmission of COVID-19 infection in our community. The emergence of variant strains of COVID-19 with their increased ability to spread between persons has increased the importance of measures to prevent infections and to stop the spread.
At Western Dispatch we have been vigilant and caring when it comes to this new challenge we face as a community. We not only abide by the precautions set forth by our Health Minister, but we also take extra measures to ensure we are doing our part to help our community through these tough times.
At Western Dispatch we are vigilant about safety. Everyday whether it is the commute to work or our fleet delivering our clients goods, we are aware of the dangers on the road. We are constantly in a state of communication about having a culture of safety in our minds it is important for us to keep everyone safe so that we can go home to our families & friends.
 We provide our drivers with an array of knowledge & Resources to help them stay safe on the road. By doing this we prevent complacent behaviours, poor habits, and unsafe actions. This is just one of the many things we do here at Western Dispatch to be a leader in both our industry and community.
Prioritizing Safety While Optimizing Performance
At Western Dispatch, we take safety seriously. Our comprehensive approach to safety includes formal systems to identify, address, and report hazards before they lead to incidents. We have a tailored safety action plan and regular training to reinforce best practices and keep our team informed and prepared. Our employees & contractors take ownership of their day-to-day tasks, conducting regular self-audits to proactively identify and mitigate potential risks. We believe that safety is a collective responsibility and empower every member of our team to make a direct impact on the safety of our workplace. W
e are safety driven, and this has a direct impact on our day-to-day operations, everyone going home safe to their friends and family is our top priority. As an added bonus a safe business is a fast and efficient business, with our goal of zero incidents, zero near misses, and zero injuries, it allows our team to function and run at maximum capacity to serve your business better.
OUR GOAL FOR THE FUTURE
-FULL FLEET OF ELECTRIC VEHICLES BY 2030
-100% RENEWABLE ENERGY USED IN OUR FACILITIES BY 2030
-REDUCE OUR EMISSIONS BY UNDERSTANDING THEM, USE ACTIONABLE DATA THROUGH TECHNOLOGY TO REDUCE NOT ONLY OUR CARBON FOOTPRINT BUT TO HELP YOU REDUCE YOURS AS WELL.
-WITH OUR LARGE FLEET AND VOLUMES WE HAVE MORE COLLABORATION WITH INDUSTRY LEADERS THEN ANY OTHER COURIER IN THE CITY, POOLING TOGETHER NETWORKS OF DELIVERIES ALLOWS US TO OPTIMIZE HOW WE DELIVER YOUR FREIGHT THIS INCREASES SPEED, LOWERS COSTS, AND REDUCES ALL OF OUR CARBON FOOT PRINTS.
-AT WESTERN DISPATCH WE HAVE SPECIFIC SOP'S REGARDING ENVIRONMENTALLY UNFRIENDLY ACTIONS, SAY GOOD BYE TO LONG IDLE TIMES AND SAY HELLO TO A BREATHE OF FRESH AIR.

When it comes to reducing carbon emissions, making a real impact takes cooperation and innovation across the entire supply chain. Western Dispatch, at the center of one of the largest, most diversified transportation networks in Edmonton,AB, enables unique opportunities for shippers and carriers to reduce emissions, decarbonize the industry, and move us all toward a more sustainable future. We do this through our innovation and technology.
Carrying Your Trust
Contact us today to see how we can help with your delivery and logistics needs.